Introduction: Viola for Instagram stories
I learned about Viola, a video tool for Instagram stories, from Betalist. This was back in July 2020. I had decided to give it a try because the idea looked interesting. But, there were several hurdles. Towards the end of August 2020, I decided to give this tool another try, and was positively surprised.
What is Voila?
I would briefly describe it as follows:
A tool for creating Instagram stories, that is, short videos and messages, with some great stock images from Pixabay.
Since the shelf life of these Instagram stories is short, makes sense to create a library of such stories and schedule them. With that in mind, a tool which can enable quick creation og short videos is very much welcome and appreciated.
New: Watch my video review of Voila
I had tried out voila a few weeks ago, and had left a detailed review for the creators on beta list. The product had several issues, some of which I have highlighted below.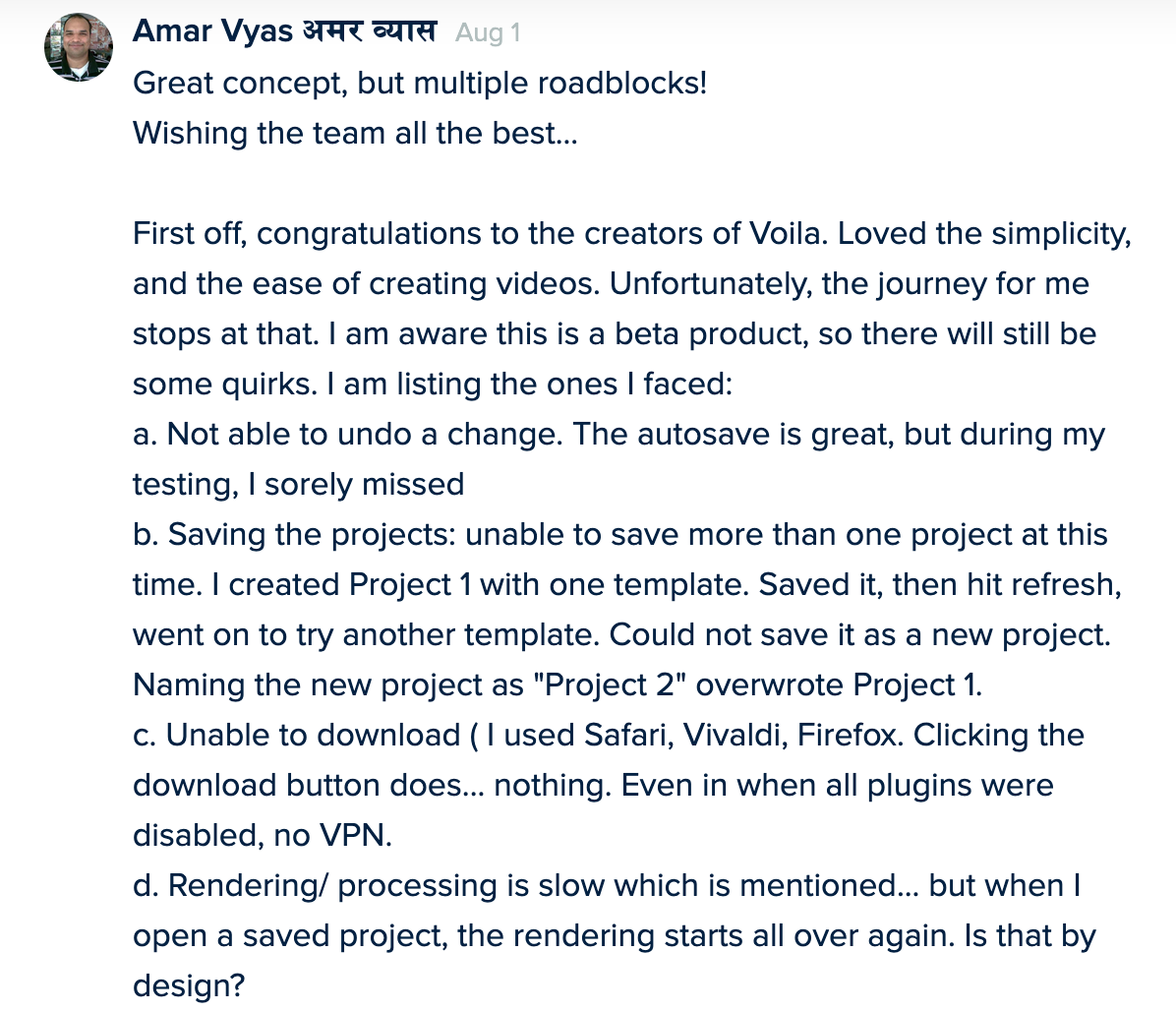 Fast Forward: Creating videos for Instagram Stories
Today I decided to give it a try again on safari I got the usual set of errors such as loading of the dashboard. Therefore, I ended up using Vivaldi (based on Chrome). The developers seem to have buttoned down the number of templates (less is more!) and the ease of use has improved indeed. I created a few videos aimed to be published as Instagram Stories.today, including one with Devanagri font. They seemed to work well.
Wrapping it up
Voila is in early stages, but I am beginning to develop a liking for it. It could be a nifty little tools for creating Instagram Stories, or its cousin, Instagram Reels. There are many limitations- for example the text cannot be moved around, logos cannot be added as a layer, and the rendering is slow. Compared to InVideo or Tyle (Both available as offers on Appsumo) Voila is less full featured. But the simplicity of use maybe is what works for it!
The biggest pain point that I had highlighted in my review on Betalist still remains: When you open a file from the library, Voila starts the rendering all over again. The rendering process itself is very slow, considering that the output is a short video fo 6 to 8 seconds length.
Once they address some of the quirks, Voila should be a good tool to work with! Below I am adding some screenshots that show the dashboard for Voila as well as the templates.
Sample videos and images created using Voila
---
This post was updated on 2020-08-28